Partaking in Summer festival's are one of the best ways to spend your weekends! The great atmospheres, weather and fun set an environment that attracts people from all over the state! From family-friendly to 21+, we've found some fun for everyone!
Starting from this weekend - mid June, make sure to check a couple of these festivals out!
---

PALISADE INTERNATIONAL HONEYBEE FESTIVAL🐝
When: April 14
Where: Palisade, CO
Cost: Free
The Palisade International Honeybee Festival is a non-profit, community driven festival created to bring awareness to the honeybee crisis through education and the arts. The festival's goal is to increase public awareness of the impact of bees on our food sources and the wide range of benefits of bee products!
---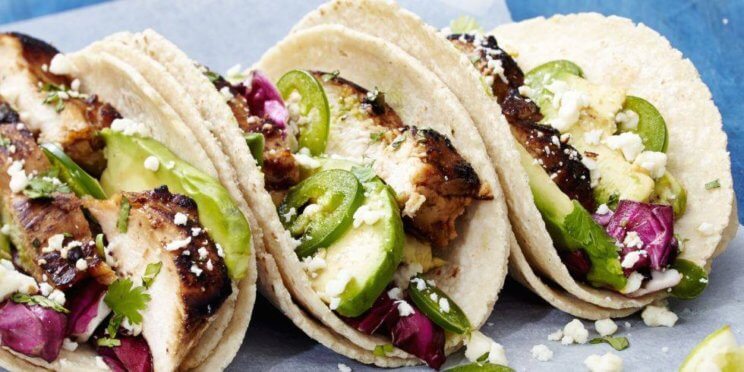 SABROSO CRAFT BEER, MUSIC & TACO FESTIVAL🍻🌮
When: April 28
Where: Fiddler's Green Amphitheatre
Cost: $39 – $59
Sabroso Craft Beer, Music & Taco Festival is a day filled with craft beer, tasty gourmet tacos, Lucha Libre style wrestling and live music. Featuring four hours of craft beer tastings of over 100 craft beers, including some of the best local favorites.
---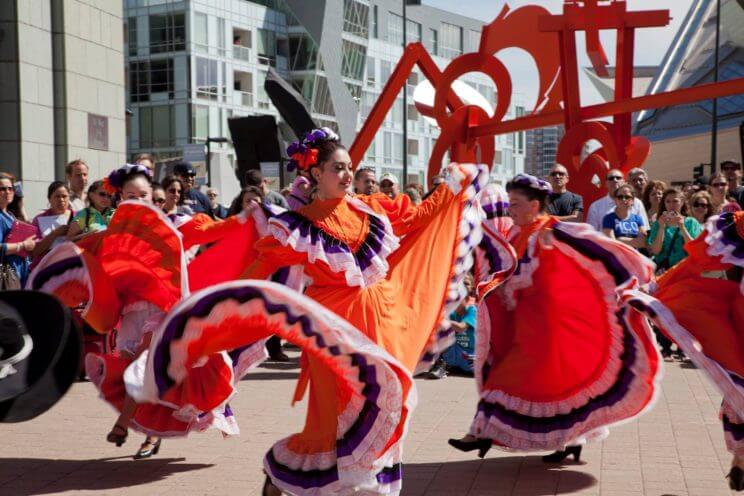 DÍA DEL NIÑO AT THE DENVER ART MUSEUM 🎉
When: April 29
Where: Denver Art Museum
Cost: Free
Enjoy free admission, family-friendly programming, and live music and dances that celebrates children from around the world at the Denver Art Museum with their special Día del Niño (Day of the Child) Festival.
---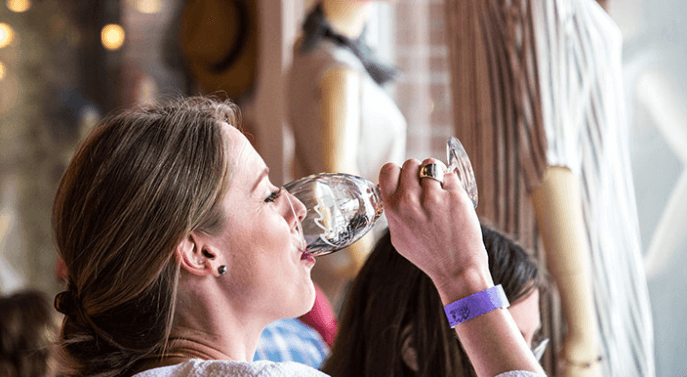 TASTE OF PEARL 🍽🍹
When: April 29, 2018
Where: Pearl Street Mall
Cost: $65 – $75
Downtown Boulder's Taste of Pearl showcases the talents of some of Colorado's most renowned restaurants & chefs. Taste of Pearl is celebrating its 9th anniversary pairing 15 Boulder restaurants with 15 Colorado wineries/distilleries. The tastings will be hosted in 15 of downtown Boulder's best boutiques and galleries.
---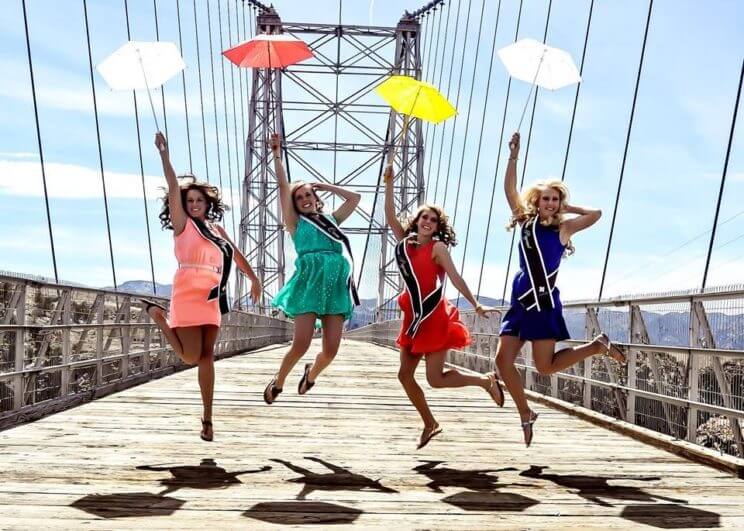 CAÑON CITY MUSIC & BLOSSOM FESTIVAL 🎶🎉
When: May 4 – 6, 2018
Where: Royal Gorge Blvd
The Cañon City Music & Blossom Festival celebrates the spring season and features the largest school band competition in the state, a craft fair, a rodeo, a free Kid Zone, and concludes with a parade down Main Street.
---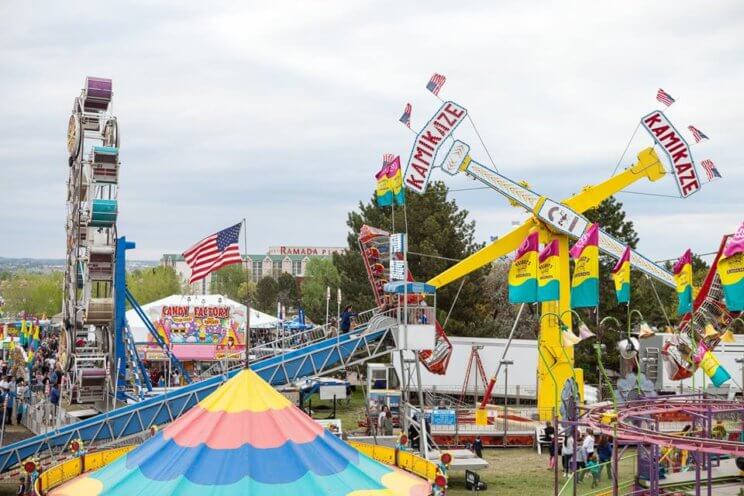 NORTHGLENN FOOD TRUCK CARNIVAL 🎡
When: May 11 – 13
Where: Northglenn City Hall
The Northglenn Food Truck Carnival will include some of Denver's best gourmet food trucks set against a traditional carnival with amusement rides, midway games, fair concessions and roving entertainers. Also enjoy the Big Top stage with eight bands representing Colorado's best Americana and Bluegrass Music.
---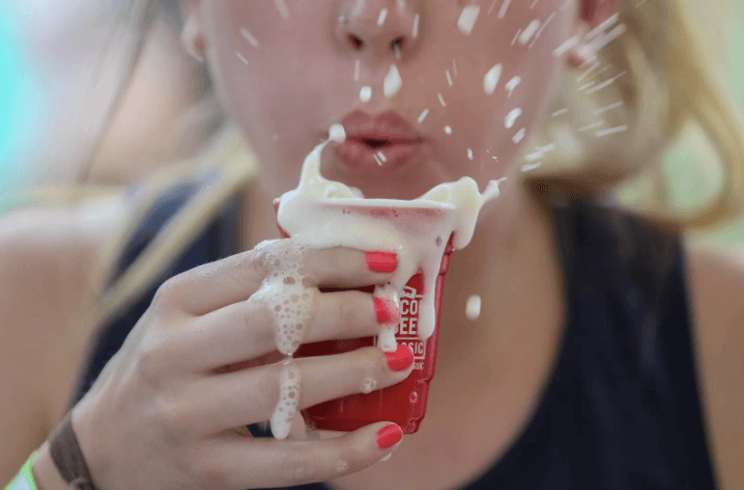 DENVER BACON AND BEER CLASSIC 🥓🍻
When: May 12
Where: Sports Authority Field at Mile High
Cost: $69 – $125
The Denver Bacon And Beer Classic will take place at Sports Authority Field at Mile High and will feature over 30 original bacon dishes, 100+ craft beers, music, contests, games, and more.
---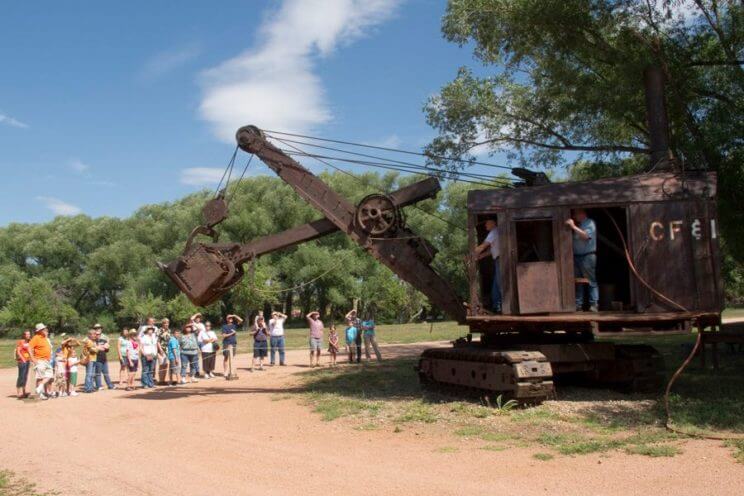 Photograph courtesy of ©Western Museum of Mining & Industry
PIKE'S PEAK ANTIQUE MACHINERY DAYS ⛰
When: May 19 – 20
Where: Western Museum of Mining & Industry
Cost: $5
The Western Museum of Mining & Industry will host the first annual Pikes Peak Antique Machinery Days on their historic 27- acre Reynolds Ranch!
---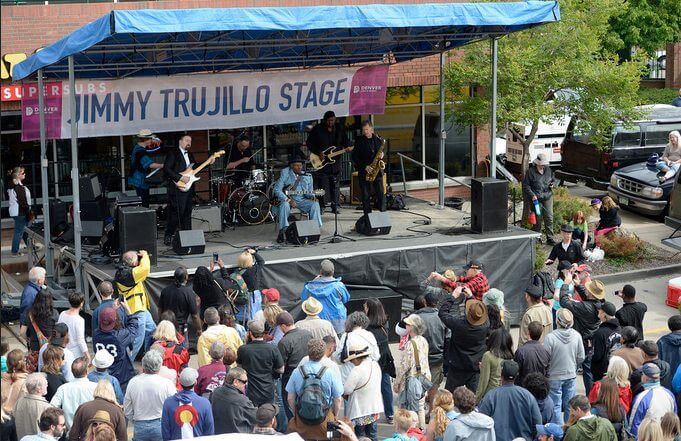 FIVE POINTS JAZZ FESTIVAL 🎷🎶
When: May 19
Where: Five Points, Denver
Cost: Free
The Five Points Jazz Festival takes place the third Saturday of May and celebrates the history of Denver's Five Points neighborhood.
---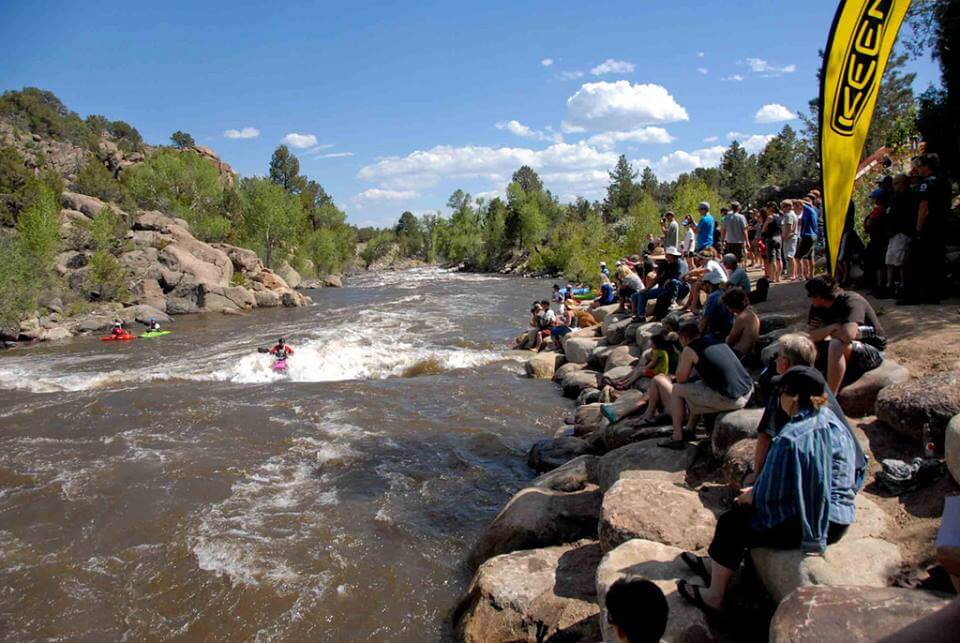 BUENA VISTA'S PADDLEFEST 🚣‍♂️
When: May 25 – 28
Where: 327 E Main St, Buena Vista, CO 81211
Cost: Free
CKS Paddlefest is huge kickoff party to celebrate the start of the summer paddling season. Join them for an action-packed weekend of fun and educational activities for paddlers of all ages and abilities.
---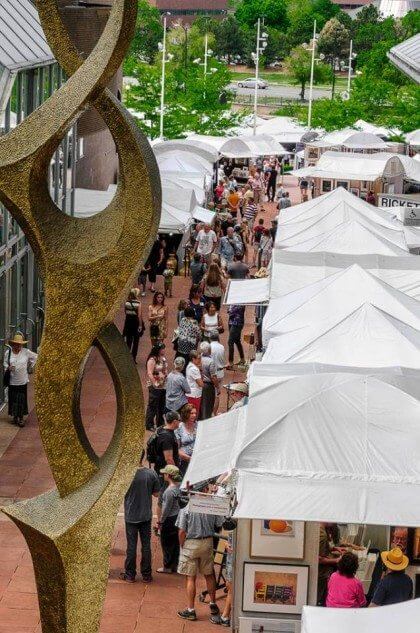 DENVER ARTS FESTIVAL 🎨
When: May 26 – 27
Where: Conservatory Green at Stapleton, Denver 80238
Cost: Free
The Denver Arts Festival holds its annual premier event at Stapleton's Conservatory Green Plaza in Northfield. The fine art and fine craft exhibition features some of Colorado's and the nation's best artists with over 50,000 people expected to attend.
---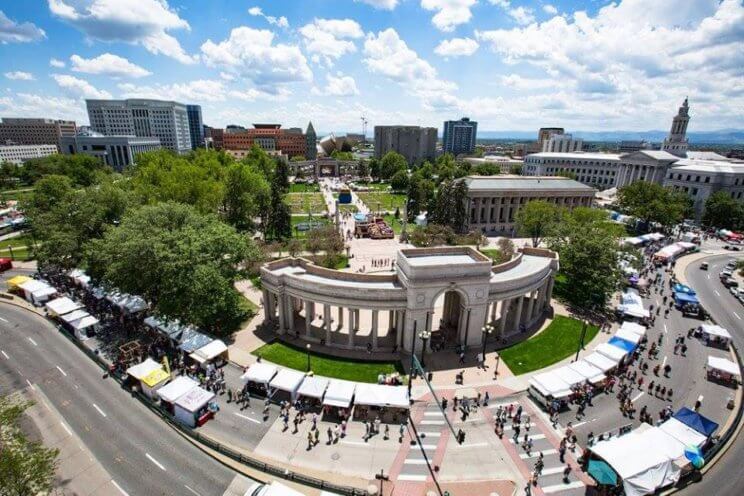 Photograph courtesy of ©Capitol Hill People's Fair
PEOPLE'S FAIR 🎪
When: June 1 – 3, 2018
Where: Civic Center Park, 101 W. 14th Ave., Denver 80202
Cost: Free
The People's Fair is one of the largest two-day festivals in the country with over 200,000 fairgoers, and is one of Colorado's longest-running outdoor urban festivals featuring handmade arts & crafts, food from local restaurants, kids' activities, live local entertainment, and more.
---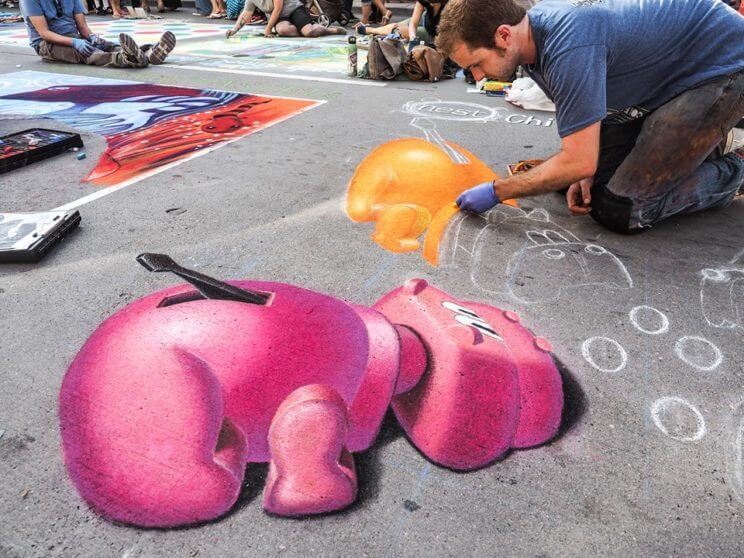 DENVER CHALK ART FESTIVAL 🎨
When: June 2 – 3
Where: Larimer Square,
Cost: Free
The Denver Chalk Art Festival features more than 200 professional, amateur and student artists will delight and amaze Denver locals with their incredible talents in what has become one of the city's most treasured events.
---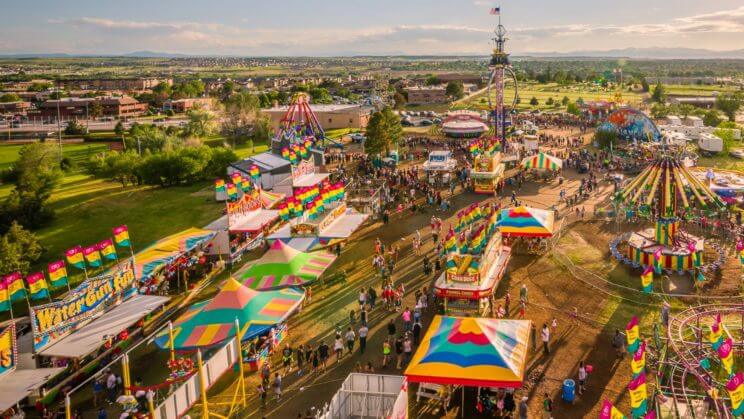 PARKER DAYS FESTIVAL 🎪
When: June 7 – 10
Where: 19590 Mainstreet, Parker, CO 80138
Cost: Free
Parker Days Festival, presented by the Parker Area Chamber of Commerce, is a weekend filled with plenty of activities and entertainment including concerts, carnival rides, and a parade. A car show and farmers market will also be a part of this fun-filled weekend.
This year, Trace Adkins will be headlining the Parker Days Festival concert!
---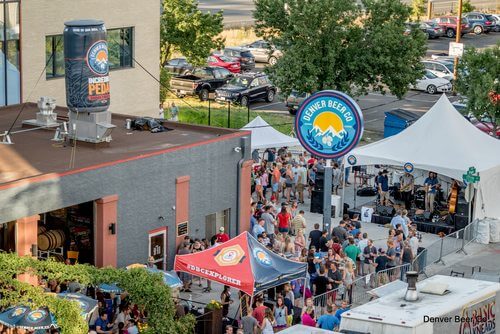 Photograph courtesy of ©Denver Beer Co.
SUN DRENCHED MUSIC FESTIVAL 🎶
When: June 9
Where: Denver Beer Co Canworks
Cost: $20 – $25
Celebrate 300 days of sunshine with Denver Beer Co.'s Sun Drenched Music Festival. This outdoor bluegrass music festival will be held at Denver Beer Co.'s Sunnyside location, Canworks, which will be transformed into a summer beach party complete with sand volleyball, beer balloon fights, and beach games.
---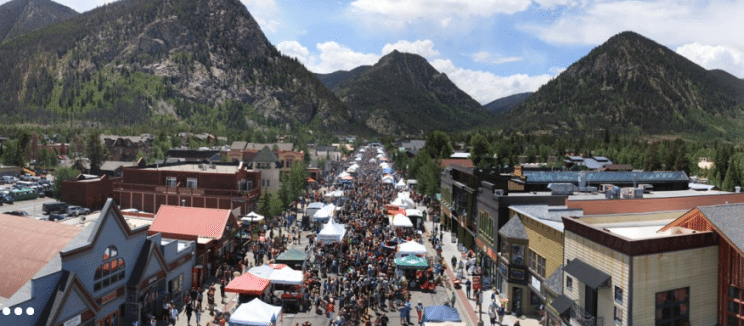 COLORADO BBQ CHALLENGE 🍖
When: June 14 – 16
Where: Town of Frisco
Cost: Free
Town of Frisco's 23rd annual Colorado BBQ Challenge draws over 70 bbq masters that chef up their best fare and compete for a variety of awards, including the coveted Grand Champion and Reserve Champion titles. Winners of the Colorado BBQ Challenge in Frisco are eligible to compete in the American Royal – the "World Series" of barbecue.
---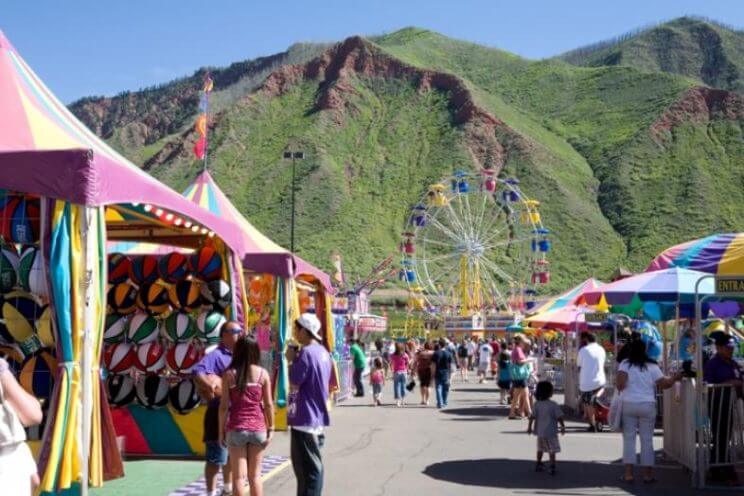 Photograph courtesy of ©Visit Colorado
STRAWBERRY DAYS FESTIVAL 🎠
When: June 15 – 17
Where: Sayre Park
Cost: Free
The 121st Annual Strawberry Days Festival, hosted by Glenwood Springs Chamber of Commerce, will feature live music, a FamilyFest area, an Arts and Crafts Fair, a food court, an old-fashioned carnival and a parade down Grand Avenue. Free strawberries and ice cream will be served on Saturday after the parade
---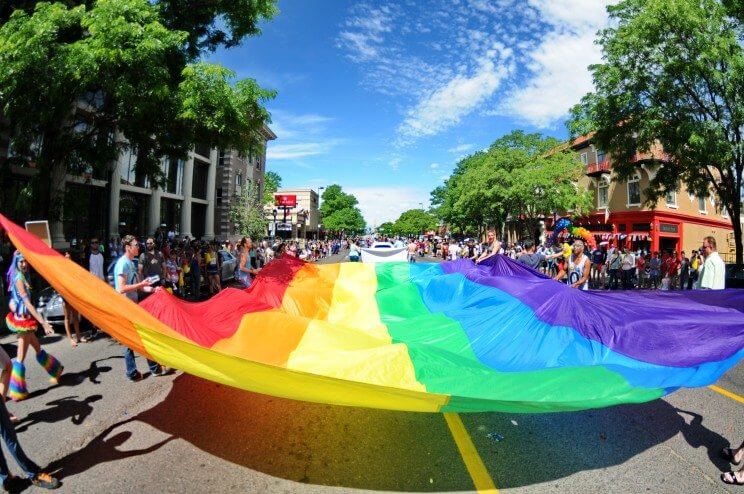 Photograph courtesy of ©Denver PrideFest
DENVER PRIDEFEST 🏳️‍🌈
When: June 16 – 17
Where: Civic Center Park
Cost: Free
Recognized as one of the top ten pride events in the country, the Denver PrideFest is a celebration of community, heritage, family and culture. Produced by the Gay, Lesbian, Bisexual and Transgender Community Center of Colorado (The Center), more than 250,000 people from Colorado and surrounding areas come out to enjoy the parade, rally, music, entertainment, food and much more.
---