Thank you for your service - Denver Veteran's Day Deals
Our military are the REAL superheroes in our lives. We sleep soundly at night knowing they protect us, and jump when duty calls. While a free meal or oil change doesn't even begin to thank you enough, we hope you'll accept the small token of appreciation these participating companies are offering to our beloved military members.
**We've done our very best to "vet" (no pun intended) each deal, but please be sure to call prior to taking advantage of any of these deals. There may be certain restrictions we are not aware of. **
As you know, be sure to bring your Military ID to be sure you can take advantage of the deals!
HOUSE ADDICTS VETERAN'S DEAL

VETERANS DAY DEALS IN DENVER
Ameristar Casino – FREE lunch (11 a.m. to 2 p.m.) at Centennial Buffet on Friday, November 10.

Applebees – FREE signature entrée from select menu.
BJ's Restaurant Brewhouse – FREE entrée (valued up to a $12.95.)
Bonefish Grill – FREE Bang Bang Shrimp appetizer.
Boston Market – Buy one individual meal with drink and get second FREE, Friday, November 10 to Sunday, November 12; coupon (but no I.D.) is required and available here.
Bruegger's Bagels – FREE small coffee.

Buffalo Wild Wings – FREE small order of traditional or boneless wings and side order of fries.
California Pizza Kitchen – FREE pizza, pasta or full-size salad from select menu.
Car Wash – More than 100 car wash locations across Colorado offer FREEcar wash.
Chili's - Visit a participating Chili's on Saturday, November 11, 2017, to get your Veterans Day free meal if you are a veteran or on active military duty.

Chipotle Mexican Grill– Buy a burrito, bowl, salad or an order of tacos and get a second entrée for FREE from 5 p.m. to closing on Tuesday, November 7.
Cici's Pizza – FREE pizza buffet.
Country Pride Restaurant – FREE meal with beverage from a select menu.
Cracker Barrel – FREE slice of Double Fudge Coca-Cola cake.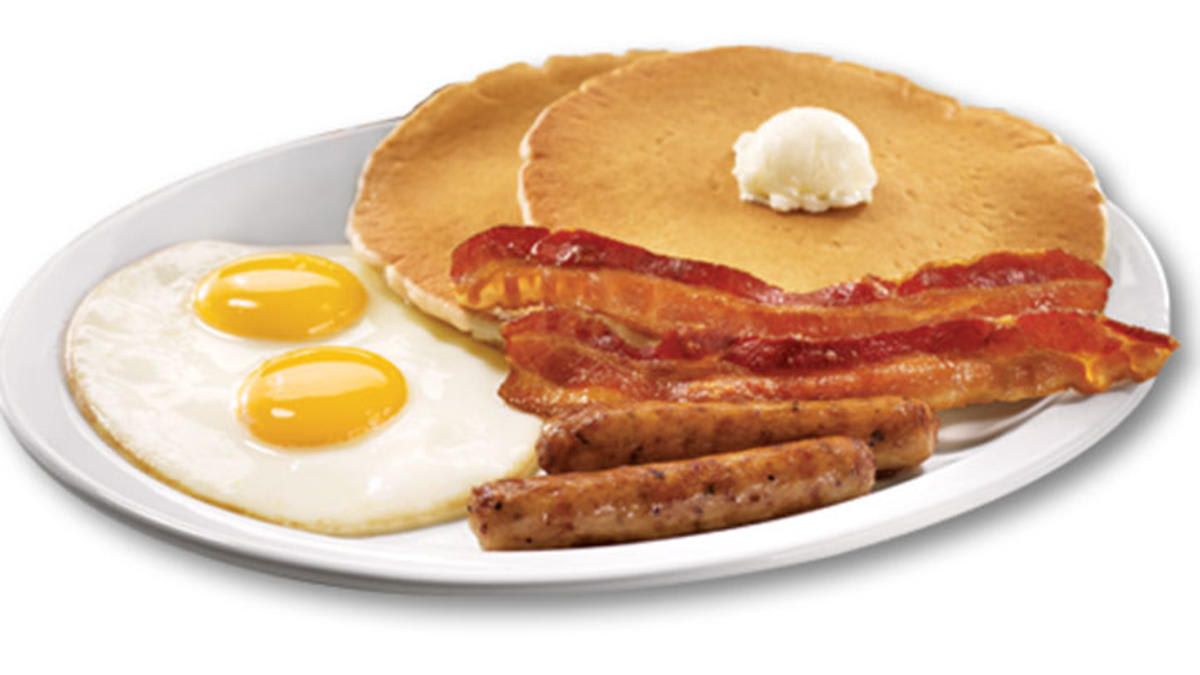 Denny's – FREE Build Your Own Grand Slam breakfast from 5 a.m. to noon. on Friday, November 10.
Dunkin Donuts – Start the day with a FREE doughnut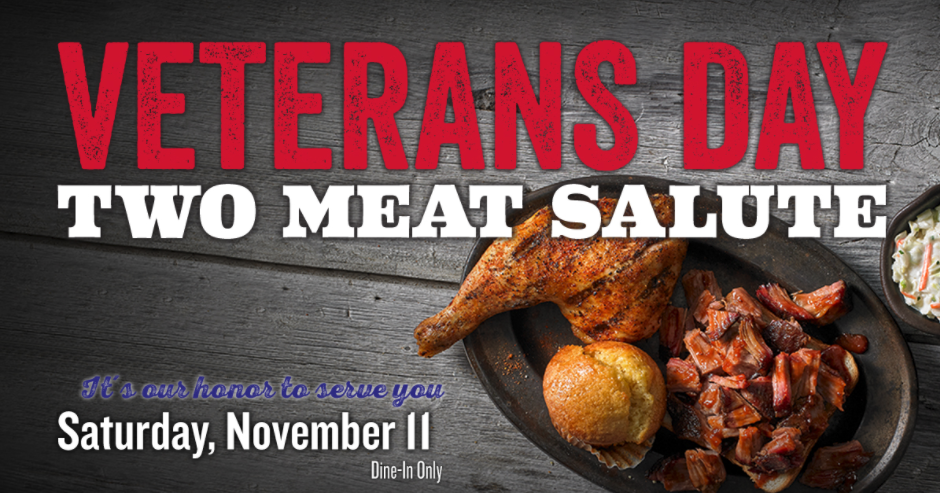 Famous Dave's – FREE Two-Meat Combo.
Fazoli's – FREE spaghetti with marinara or meat sauce.
Freddy's Frozen Custard & Steakburgers – FREE card good for a combo meal given to veterans and active-duty military. Card may be redeemed by the anyone.
The Gilpin Casino – FREE meal at Lucille Malone's (up to $15) from 11 a.m. to 11 p.m.
Golden Corral – FREE buffet from 5 p.m. to 9 p.m. on Monday, November 13.
Hamburger Stand – FREE hamburger, regular fries and small Pepsi.
Hideaway Steakhouse - FREE meatloaf or fish & chips for lunch on Friday, Nov. 10 from 11 a.m.-2 p.m.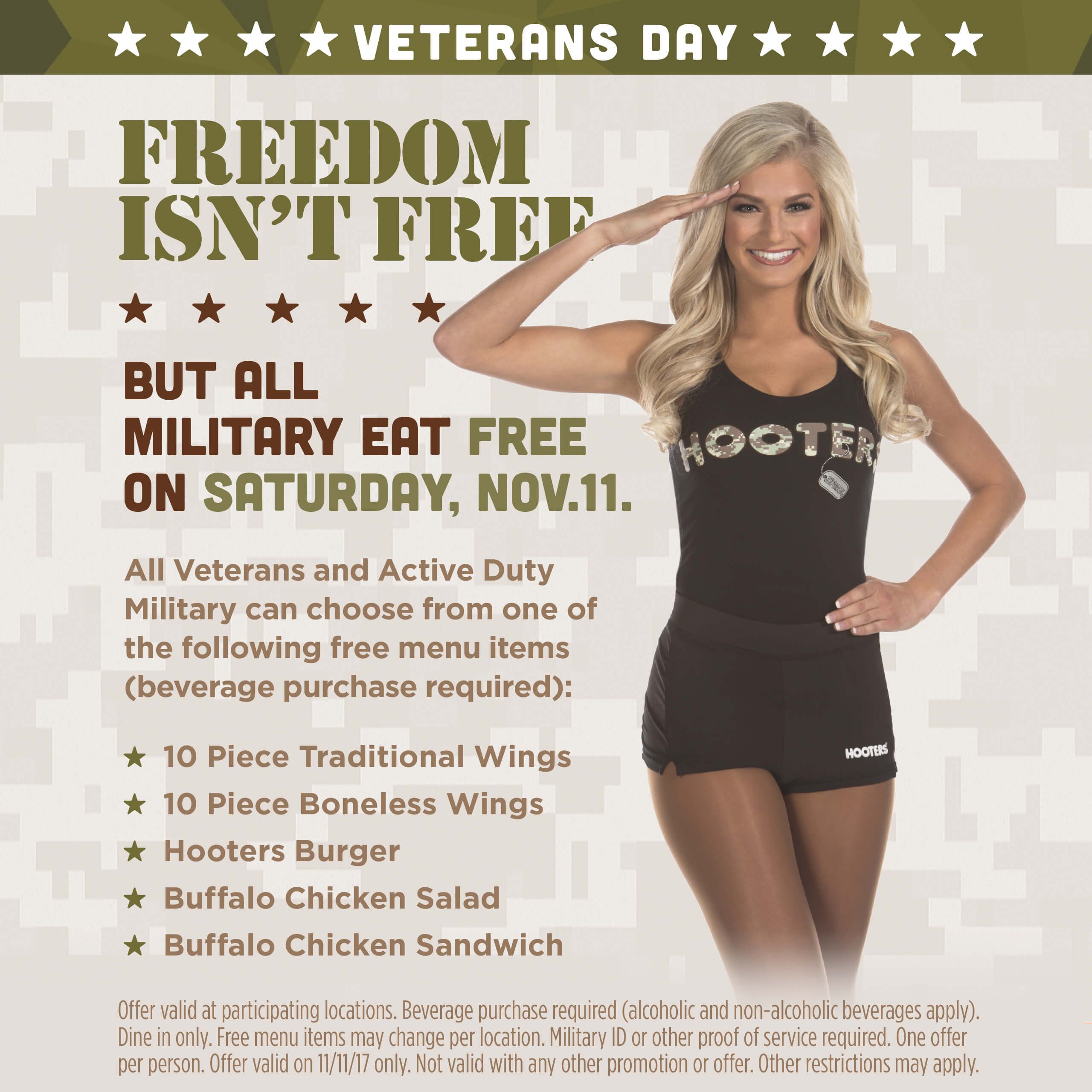 Hooters – FREE meal from select menu.
Hopdoddy Burger Bar FREE burger on Saturday, Nov. 11 from 11 a.m. until 10 p.m. (No word on whether the Turducken Burger is included in the deal.)
Hotel Boulderado - Veterans eat free (one entrée and a non-alcoholic beverage) on Nov. 11 at the Hotel Boulderado's Spruce Farm & Fish, The Corner Bar and License No. 1.
IHOP – FREE "Red, White and Blue" pancakes from 7 a.m. to 7 p.m. onFriday, November 10.
Lamar's Donuts - FREE donut and 12 oz coffee
---
Little Caesar's Pizza – FREE $5 Hot-N-Ready Lunch Combo from 11 a.m. to 2 p.m.
The Lodge Casino – FREE buffet at The Seasons.
Macaroni Grill – FREE Mom's Ricotta Meatballs & Spaghetti entrée.
Menchie's Frozen Yogurt– FREE frozen yogurt (up to 6-oz.)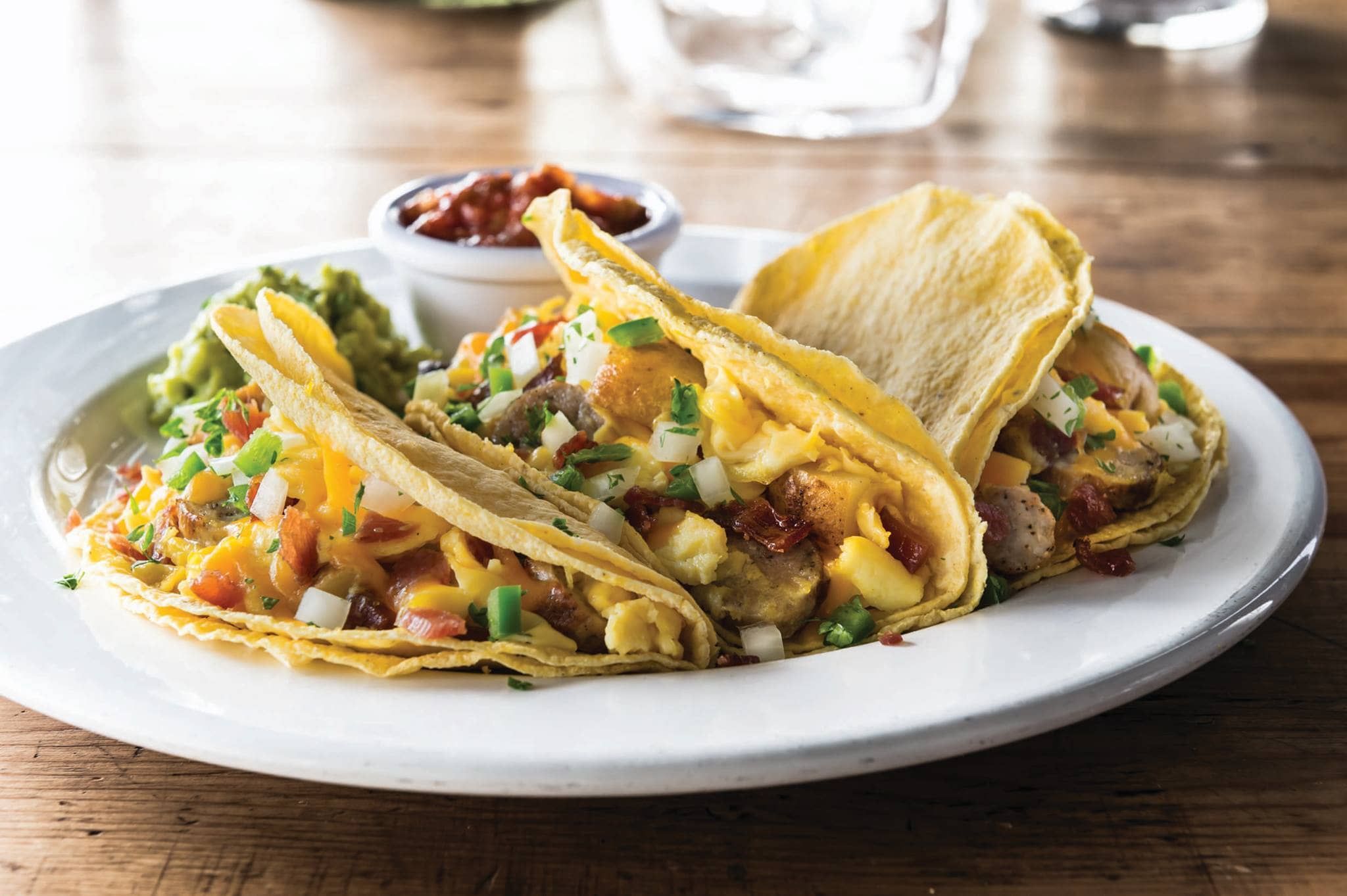 Mimi's Café – FREE breakfast, lunch or dinner with purchase of non-alcoholic beverage.
National Park Service – Waived entrance fee to more than 400 U.S. parks — open to all.
Olive Garden – FREE entrée from select menu of chain's 6 most popular items — served with unlimited homemade soup or house salad and breadsticks.
On The Border Mexican Grill & Cantina – FREE Choose 2 or Choose 3 combo meal, includes choice of enchiladas, crunchy or soft tacos, empanadas, chimichangas, soup, salad and more.
Outback Steakhouse – FREE Bloomin' Onion and beverage.
Peet's Coffee & Tea – FREE small drip coffee or tea.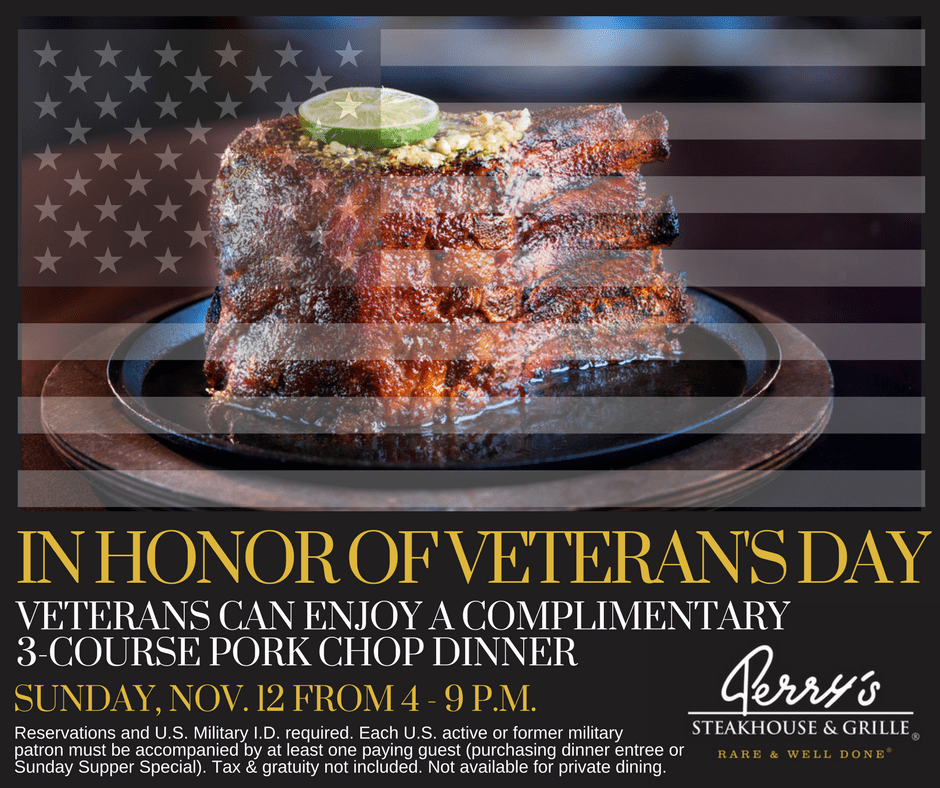 Perry's Steakhouse & Grille – FREE three-course pork chop dinner on Sunday, November 12, from 4 p.m. to 9 p.m. There must be at least one paying guest with each veteran. The dinner features a choice of salad, a slow-roasted, caramelized pork chop and the dessert trio.
Pizzeria Locale – FREE pizza with the purchase of a second pizza on Sunday, November 5.
Post Brewing Company - FREE fried chicken and beer. Get yours at The Post's Lafayette, Longmont and Rosedale locations from 9 a.m.-3 p.m. and The Post's new Boulder spot from 4 p.m. until close on Veterans Day.
Quaker Steak & Lube – FREE free meals from select menus or up to a specified amount, or discounted meals. Contact you local Quaker Steak & Lube for information on the offer available.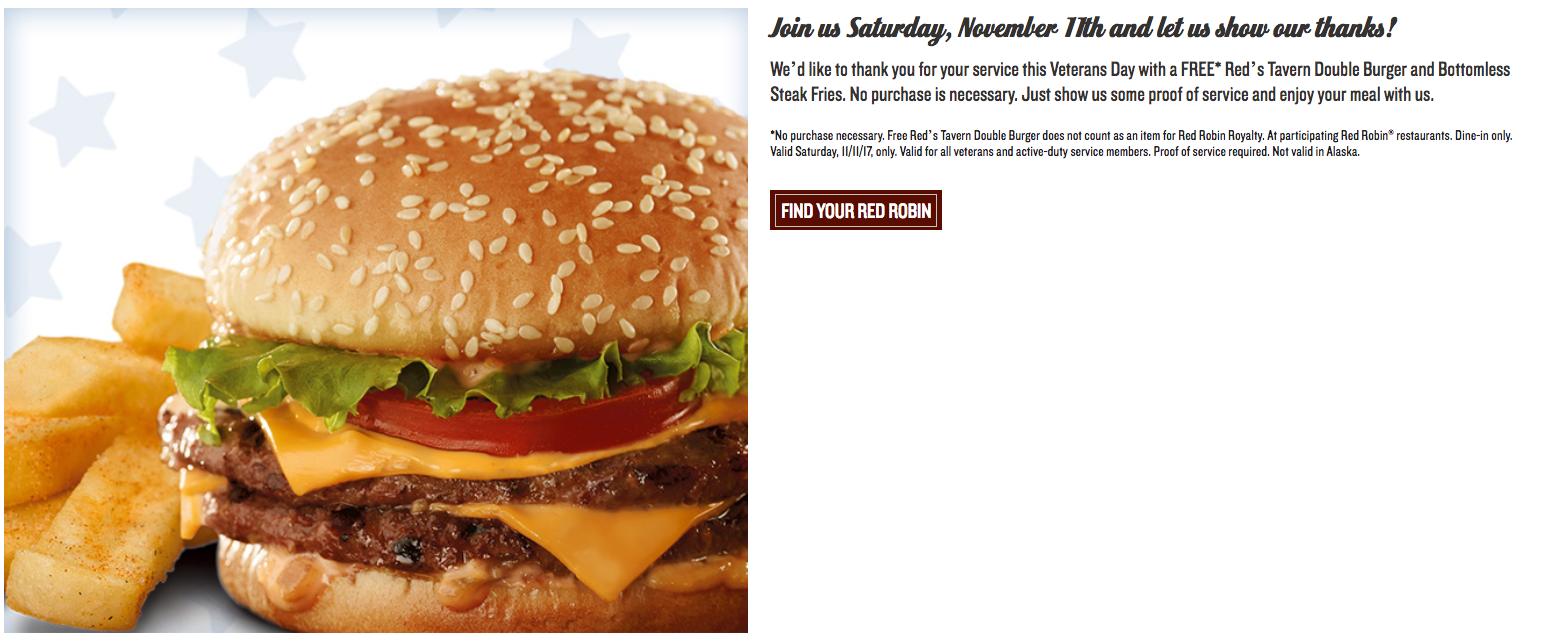 Red Robin – FREE Red's Tavern Double Burger and Bottomless Steak Fries.
Red Lobster – FREE appetizer or dessert from select menu.
Ruby Tuesday – FREE appetizer (up to $10) from select menu.
Spruce Farm & Fish – FREE entrée and one non-alcoholic beverage per person at Spruce Farm & Fish and The Corner Bar, both in the Hotel Boulderado.
Texas Roadhouse – FREE lunch from select menu, including tea, coffee or soft drink.
TGI Fridays – FREE lunch entrée from 11 a.m. to 2 p.m. (up to $12.)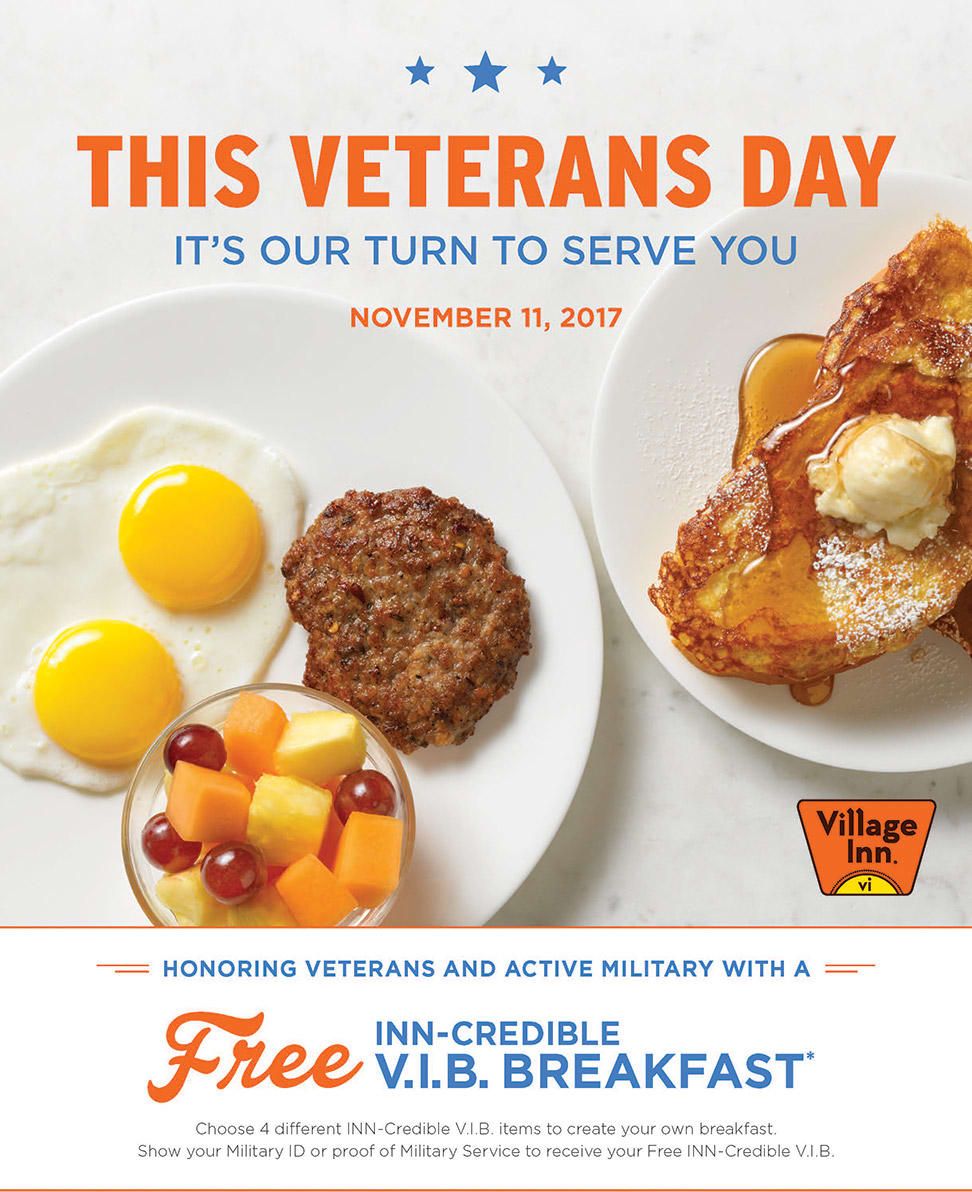 Village Inn – FREE V.I.B.Breakfast all day long.
Walgreens – Save additional 20% off eligible regular-priced items — extends to immediate family.
White Fence Farm – FREE chicken dinner with purchase of another entrée — valid from Sunday, November 5 to Saturday, November 11. (Coupon required via its e-newsletter. Call ahead to confirm details.)
Zoup! - FREE 16 oz. bowl of soup all day on Friday, Nov. 10. Various locations;
Zoes Kitchen is offering a free entrée on Veterans Day.
OTHER GOODIES

Meineke - Active and retired members of the military can present their military ID at a participating Meineke location and get a free basic oil change on November 11. (Participating locations only)

Great Clips – Active and retired members of the military can get a free haircut on November 11. If they want to take advantage of the deal, but can't get a haircut on Saturday, they can visit a participating store and get a rain check haircut card.
National Parks -As a way to acknowledge Veteran's Day, the National Park Service is offering free entry into all National Parks. This treat isn't only for veterans, anyone can get in free.
FREE metered parking in Denver and Boulder — open to all.
Safeway – Save an additional 10% off grocery purchase.